We fell in love with Pura Vida Bracelets right away! And that for couple of reasons.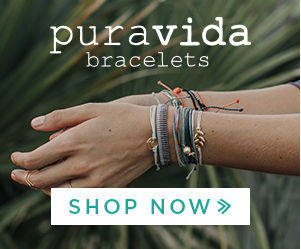 Pura Vida means "enjoying the little things" "simple things in life". That's what Costa Ricans would say! And that is what we celebrate in everyday life!
We can relate to the owners' life as well. Two young guys who fell in love with simple free lifestyle, but in the same time wanted to do something meaningful.
By purchasing Pura Vista bracelets you not only support Costa Rican families by giving them work but you can also choose different bracelets supporting different charities. How awesome is that!
How Pura Vida Bracelets came to be
How these beautiful bracelets came to be is a great story too. Two young guys from South California went on a trip to Costa Rica in 2010 for some beach time and absolutely enjoyed local life! They met there two artisan artists who were making these beautiful colorful string bracelets which was reminding the simple life of Costa Rica. These two artisans were struggling to financially support their families though. So these two Californians decided to buy 400 of these bracelets and sell them back home.
At home, in a local boutique, they sold very quick. And that's how their partnership started. Since then, they teamed up with lot more artisans not only from Costa Rica but also from El Salvador and India. This is giving them and their families steady income which means a lot!
All Pura Vida bracelets are hand crafted – each one of them is unique!
Giving Back
Giving the opportunity of steady income to local families is not the only thing what Pura Vida supports. You can also choose out of lot of different charities you want to support when you purchase a bracelet.
Since 2010 Pura Vida partnered with over 170 charities around the worlds. So far they donated around $1.7 millions to different causes. Whatever is close to your heart, you can support it through purchasing their bracelets.
You can see all available charities they support at the moment by clicking here.
Products
Bracelets

Check all the bracelets here! different types and style, also charms and braided bracelets!
Charity bracelets


we have talked about these already. You can choose to support lot of different charities like sexual assault awareness, breast cancer awareness, Parkinson disease, save the dolphins and lot more- check them out!

Jewelry

So much to choose from! They do everything 🙂 Beautiful earrings which are my favorite!! Since living in New Zealand from some reason I don't wear them that often anymore, there used to be times I wouldn't go out of the house without some. Time to get back into it, I think 🙂
You can find there also rings, anklets and necklaces

Accessories

In this section you can purchase some stickers, pins, gorgeous clutches etc.
For a good cause
If you are into artisan products and different bracelets and other jewelry, definitely check out Pura Vida bracelets and the whole website. It's great to find a product you like and in the same time you can support a good cause by purchasing it!


Please follow and like us:
Disclosure: The text above may contain affiliate links. If you click them, we may get a small commission for your purchase at no additional cost to you. You get an awesome product/service and we get to keep the lights on.